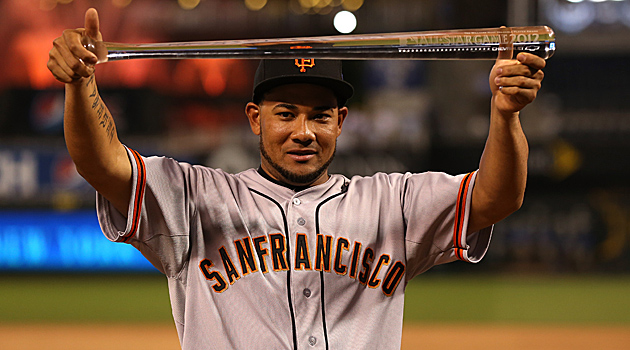 Melky Cabrera seemed to be aboard a runaway train towards winning the NL batting title until Andrew Baggarly of CSN Bay Area broke the news that he has been ruled ineligible to win the award. Giants fans may be happy about the decision for two reasons: One, Cabrera winning the batting crown would have been yet another reason to ridicule a team whose history has the clear rubbed all over it, and two, this now gives Buster Posey an outside chance to catch up and win the title himself.

But the true result of this batting paradox is an endless back and forth over the minutia of statistics, rules and traditionalism. Sometimes following Major League Baseball feels like being in a really strict math class where everyone is expected to solve trigonometry questions with an abacus or else they'll get beaten with a ruler. I digress.
Two types of people read this blog (I hope people read this blog, anyway): Those who follow me on Twitter and friends or family members that aren't completely obsessed with sports like I am. The following is a breakdown of the situation for the latter group. If you already know the story, bear with me.
Why Melky could have won the award
Cabrera was hitting .346 at the time of his suspension, a batting average that remains the highest in the National League. At first it appeared that he was out of the running for a batting title because his 501 plate appearances were one short of the 502 that are required to win the award.
Of course the MLB has a rule for that. Of course they do.
Rule 10.22(a) states that if a player is short of the necessary plate appearances to win the award, and adding those plate appearances doesn't lower their average enough to take them out of contention, then those plate appearances will be added. In laymen's – Melky gets a free 0-fer, his plate appearances magically jump to 502, his batting average remains .346 and the batting title is his.
Why Melky won't win the award
Cabrera actually reached out to Major League Baseball and asked to be removed from contention. Here is the statement that Cabrera made to the Associated Press:
''I ask the Players Association to take the necessary steps, in conjunction with the Office of the Commissioner, to remove my name from for the National League batting title. To be plain, I personally have no wish to win an award that would widely be seen as tainted, and I believe that it would be far better for the remaining contenders to compete for that distinction. So too, the removal of my name from consideration will permit me to focus on my goal of working hard upon my return to baseball so that I may be able to win that distinction in a season played in full compliance with league rules. To be plain, I plan to work hard to vindicate myself in that very manner.''
Commissioner Bud Selig is granting Cabrera's public relations maneuver request, thus rule 10.22(a) will not be enacted on his behalf and the NL batting title is now a race between Andrew McCutchen (.339) and Buster Posey (.335).
Why this whole situation is completely absurd
Rule 10.22(a) exists for a pretty admirable reason. Tony Gwynn was on his way to winning his third straight batting title in 1996 but when all was said and done he was four plate appearances short of 502. They created the provision for Gwynn to win the award; he took an 0-for-4 and his average remained the highest. The reward was his. The added plate appearances are for players who lacked them due to shortened playtime or injury (but testosterone kept Melky relatively healthy, I'm sure). That same rule would have aided Cabrera in winning a tainted award, and yet some are outraged that the league is changing the rules in the middle of the game to avoid it.
But it's true that the batting title isn't actually an award – really, it's a statistical fact. Even without him being crowned, his batting average will remain the highest in the NL. He who has the highest batting average in a minimum of 502 plate appearances wins the crown. If that's true, then it is a statistical fact that Tony Gwynn didn't have enough REAL LIFE plate appearances to be awarded in 1996. The same can be said for Melky Cabrera, who doesn't have enough REAL LIFE plate appearances to be eligible for the award now.
Amendments will surely be made this offseason. Players who test positive for performance enhancing drugs will not be eligible for rule 10.22(a) or the batting title at all, most likely. But the real enemy here isn't Bud Selig or Melky Cabrera or even PEDs. The real enemy is imagination, because without that, Melky's 502nd plate appearance wouldn't exist in the first place.