Okay, so this is why Twitter is so much fun. Anybody checked out Facebook lately? Me neither. It's probably filled with a bunch of political status updates, pictures of puppies lying in beds of flowers and people posting on Lil Wayne's wall urging him to donate money to a charity if the post gets 200,000 likes. Twitter is the place to be right now, especially if you're a Giants fan looking for cheap entertainment while you anxiously prepare for the team's possible elimination.
I'll be accepting the award for "strangest season in the history of baseball" on Barry Zito's behalf, and the first person I'd like to thank is whoever came up with the idea of
#RallyZito
avatars last night. I'm sure it started somewhere in that circle of Giants fan tweeps that frequently bitch about anything from Brandon Belt's body language to Hank Schulman's loathing for advanced statistics. Either way, it was brilliant and it caught on like wildfire. I don't check "What's Trending" very often because most of the time it's filled with topics like "Why she ratchet" or "10 reasons why I miss my ex," but the fact that #RallyZito has been trending for over 12 hours shows just how daffy Giants fans have truly gone.
It had to be Zito.
How boring would changing our avatars be if we were depending on Madison Bumgarner to stave off elimination? The only awesome picture of MadBum that exists on the interweb is that one of him holding a penguin and
@GiantsNirvana
has been rocking that for at least a year, maybe longer. #RallyZito has been made possible by the fact that somehow the guy has had more embarrassing pictures taken of him than any celebrity in recent memory, and ALL of them ended up in the Google image vault. Here are a few of my favorites: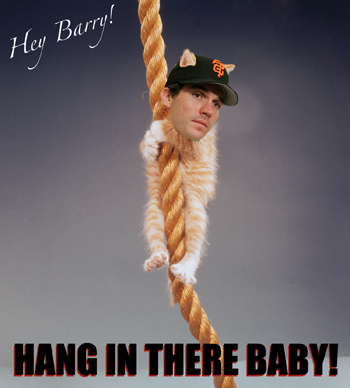 Okay, I just found that last one and I'm not gonna lie, it's the most amazing of them all. If you're looking for added entertainment, go ahead and search #ReplaceSongLyricsWithBarryZito and ReplaceMovieQuotesWithBarryZito on Twitter.
"You had me at 'Zito.'"
Quite frankly, I'm completely sick of writing about Zito. I started off this season comparing him to Alex Smith and basically rode that out for the entirety of his lucky year, where batters constantly made loud contact and somehow hit it right to his defense. Then I covered one of his starts in a press box and he almost pitched a complete game shutout. Now we'll all sit back and watch him attempt to play the stopper in his second straight elimination start in two weeks - a game he'll probably win.
Regardless of how he plays, one thing is for certain: my assertion that San Francisco fans are forgiving creatures has pretty much proven to be true. Is this entire #RallyZito movement coated in sarcasm and the kind of nervous laughter that is usually heard in the 5150 ward? Absolutely. But somehow, someway, we've all learned to love Barry Zito - win, lose, or no decision.